As Premiums Rise, More Employers Are Choosing Self-Funded Coverage
---
Health care premiums are skyrocketing. A July 3, 2015 New York Times article, reported that insurance companies across the nation are seeking rate increases of 20%–40% or higher. North Carolina rates in 2016 for Blue Cross and Blue Shield plans could rise an average of 25% if approved and 36% in Tennessee. [1]
"Both Virginia and North Carolina are looking at double-digit rate hikes proposed for ACA plans in 2016. The ACA taxes and fees are a prime reason why many employers are considering self-funded plans."
– Alan Bayse, Consultant, TrustPoint Benefit Advisors, Roanoke, Virginia
Employers are searching for answers as the cost of medical services and drugs spirals upward. A 2011 study by the Employee Benefit Research Institute revealed that 58.5% of employers chose self-funded plans, up 18.5% in the past 13 years.[2]
What is Self-Funded Coverage?
Employers who self-fund provide employee health benefits out of company assets and employee contributions. This model of coverage gives employers flexibility to fund and manage their plan for the unique needs of their company and employees. And self-funded employers enjoy other benefits, such as exemption from certain federal and state fees, totaling up to 6% in savings.
How Would My Rates Be Calculated?
The key benefit for self-funded employers is the ability to save unspent money reserved for claims. Employers who work with benefits administrators manage costs more efficiently—and costs can be transparently analyzed from year to year. Self-funding allows employers to set their premium rates with customized plans for employees. Self-funded plans can fit a variety of budgets, from pay-as-you-go, all the way up to fully-funded rates for maximum liability of coverage. Employers who prefer more predictable budgeting may choose to set rates at this higher level.
What about Catastrophic Claims?
Self-funded employers address the risk of large, catastrophic claims with stop loss insurance, which covers claim costs exceeding the limit chosen by the employer. Stop loss policies are issued with individual (specific) deductibles and aggregate (group) deductibles. The employer is able to choose the level of exposure for a specific plan while protecting business assets. MedCost partners with consultants and employers for access to A-rated stop loss carriers with high-quality plans.
So Who Are the Best Candidates for Self-Funded Plans?
Three out of five covered workers are in self-funded plans, according to a 2013 study by the Kaiser Family Foundation.[3] What type of employer is a good candidate to self-fund? You may find this model a successful strategy for your business if you fit these parameters:
1 Your company wants to know where all your health caredollars are going.
Benefits administrators should offer cost reporting when managing your plan, as well as a detailed breakdown of expenses when setting up your plan. Stop loss insurance and benefit administrative costs may range from 18%–21%, leaving up to 79% for employers to reserve for the variable expenses of employee claims.
2 Your company likes to customize your health care benefits.
Self-funded plans avoid many state mandates regulating costly benefits because these plans are governed by the Employee Retirement Income Security Act (ERISA) passed by Congress in 1974. ERISA preempts many state insurance laws, offering potential savings. If you want to design your own plan benefits while controlling cost, this choice offers those advantages.
3 You want more autonomy to choose your level of risk.
No matter how health care plans are funded, insurance is based on risk sharing. But in a self-funded plan, you can select deductible limits and the amount of stop loss coverage to cover excessive claims during a plan year. Working with an experienced consultant and benefits administrator can give you the knowledge to make decisions that are best for your company.
4 You prefer to keep health care dollars not spent on actual claims.
Self-funding offers significant savings opportunities on employer assets that are reserved for payments of claims. Cash flow can be maximized either by pay-as-you-go funding or by depositing the full amount of projected claims liability into your account. Funds not spent during a plan year remain in your account, available for future plan expenses.
Does a self-funded plan make sense for you to consider? Contact your health care consultant or Laura at MedCost to make the best choices for your health care plans.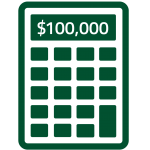 [1] Pear, Robert, "Health Insurance Companies Seek Big Rate Increases for 2016," New York Times, July 3, 2015, http://www.nytimes.com/2015/07/04/us/health-insurance-companies-seek-big-rate-increases-for-2016.html?_r=1
[2] Fronstin, Paul, Ph.D., "Self-Insured Health Plans: State Variation and Recent Trends by Firm Size," Employee Benefit Research Institute, 2. http://www.ebri.org/pdf/notespdf/ebri_notes_11_nov-12.slf-insrd1.pdf
[3] 2013 Employer Health Benefits Survey, Kaiser Family Foundation, August 20, 2013, http://kff.org/report-section/ehbs-2013-section-10/