CREDENTIALING INFORMATION  
Requirements for Network Participation 
Providers must be credentialed and approved before they can be added to the MedCost Network. They also must follow an approval process for re-credentialing every three (3) years to remain in the network. The MedCost credentialing program has been accredited by URAC since 2000, which assures clients and members of our compliance with federal and state credentialing standards.
 
To eliminate the need for practitioners to submit multiple credentialing applications, MedCost participates in the Council for Affordable Quality Healthcare (CAQH). Their Universal Provider Datasource® (UPD) enables a practitioner to submit a single standard application that is designed to meet the needs of all organizations involved in the (re)credentialing process. In an effort to make the process more uniform and to ease your administrative burden, CAQH will help with the collection of your credentialing information.
 
If you are registered with CAQH, supply MedCost with your CAQH ID. You also will need to log into the UPD database and add MedCost as one of the health plans authorized to access your information. This will allow MedCost to obtain your current credentialing information from the UPD database.
 
If you are not registered with CAQH, please register and add MedCost as one of the health plans authorized to access your information. Once you receive notification from CAQH that your application is complete, supply MedCost with your CAQH ID. 
 
If you require a paper copy please contact the CAQH Help Desk at 888-599-1771 and request a CAQH application be sent by mail. A fax number for completed applications is provided on the application.
 
Re-credentialing 
If you access CAQH, please ensure that all the necessary information and supporting documentation is up-to-date. If you do not access CAQH, we will reach out to you directly for the information necessary to complete this process.
---
COME SEE US AT NORTH CAROLINA HEALTH INSURANCE INSTITUTE 
MedCost will attend and present at the upcoming North Carolina Health Insurance Institute event in Statesville on October 25, 2018.  For more information about the event, click here. We hope to see you there!
---
WELCOME TO THE NEW MEDCOST WEBSITE 
We hope you are enjoying our new website.  Some helpful links can be found by clicking on the "FOR Providers" option on the home page. 

Once you navigate to the providers' portal, you can obtain information about the following items and/or log in to the secure portal: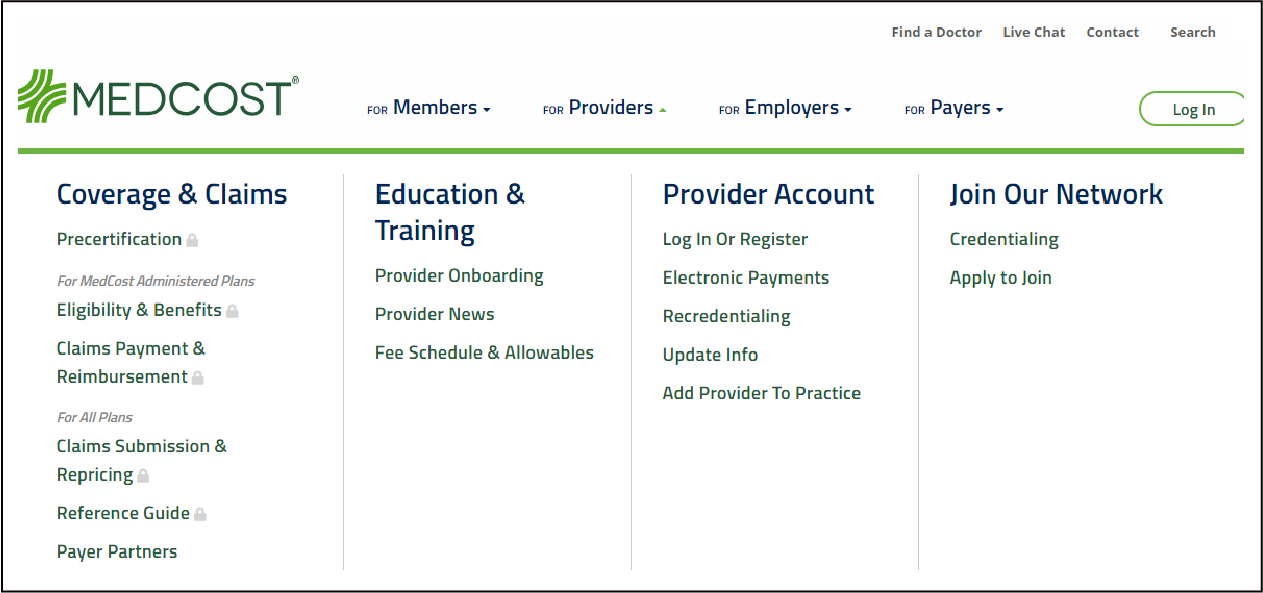 If you would like to locate a MedCost Network provider, access the MedCost Provider Directory.   
 
Other provider networks can be accessed by selecting "Find a Doctor."
 
For any questions or assistance, please call our Customer Service Contact Center at 1-800-824-7406.