An estimated 150 million Americans have employer-sponsored health insurance.[i] What is the complex system under which employer health plans cover the rocketing costs of prescription drugs?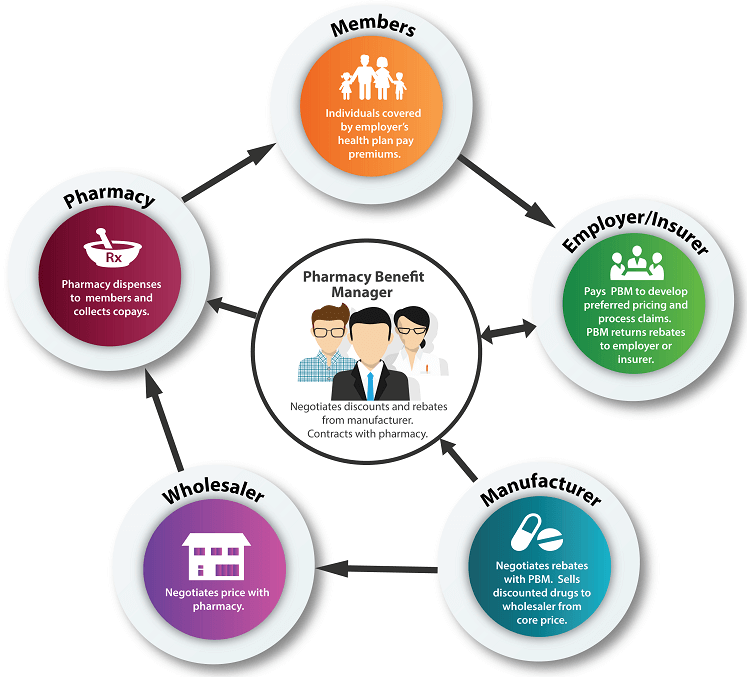 Members
Individuals covered by employer's health plan. May pay premiums or copays for drug coverage.
Employer or Insurer
Employer or insurer pays PBM to develop preferred drug pricing & process prescription claims. PBM returns some or all rebates to employer or insurer.
Pharmacy Benefit Manager (PBM)
Negotiates discounts and rebates from manufacturer. Contracts with pharmacy.
Manufacturer
Negotiates rebates with PBM.
Sells discounted drugs to wholesaler from core price.
Wholesaler
Negotiates price with pharmacy.
Pharmacy
Pharmacy dispenses to members & collects copays.
For more resources, view: "10 Pharmacy Terms Employers Need to Know" and "5 Factors in Employer Prescription Drug Costs" from Pharmacist Zafeira Sarrimanolis.
[i Robert Galvin and Troyen Brennan, "Can Employers Take a Bigger Role in Controlling Drug Costs?" Health Affairs blog, February 17, 2017,http://healthaffairs.org/blog/2017/02/17/can-employers-take-a-bigger-role-in-controlling-drug-costs/ (accessed April 6, 2017).