Childhood diabetes rates are on the rise, and a report released Monday pointed to the impact that the cost of their care could have on families — even those who have employer-sponsored health insurance.
The study, conducted by the Health Care Cost Institute (HCCI), found that children as old as 18 with diabetes who were insured through an employer-sponsored plan racked up $2,173 per capita in out-of-pocket health care costs in 2014. That spending level was nearly five times higher than that of kids without the illness.
The HCCI researchers analyzed data from claims submitted from 2012 to 2014 through group, individual and Medicare Advantage insurance policies to analyze health care spending and utilization trends among people younger than 65 who had diabetes and employer-sponsored coverage plans.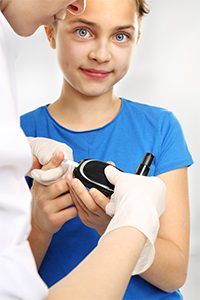 In terms of use of medical services, children with diabetes visited the emergency room 2.5 times more often than children without it. Acute inpatient services were used nearly five times more often. In all, a year's worth of care cost $17,380 — the second only to adults aged 55 through 64 with diabetes.
Although more prescriptions and frequent doctor's visits help explain the difference in the health care costs generated by children with and without this illness, researchers were still surprised by the magnitude of the disparity.
Families are "spending more out-of-pocket across the board on all types of services," said Amanda Frost, a senior researcher at HCCI. "And it's just higher use. So when you end up using all of these health care services, you end up with a very personal impact on your wallet, especially if you're a parent with a child with diabetes."
(Kaiser Health News, Heredia Rodriguez June 20, 2016)