It is time for employer-sponsored health plans to begin thinking about the process for calculation and submission of enrollment data and payment of fees under the Transitional Reinsurance Program.
As background, this program was established to fund a reinsurance pool to help stabilize premiums in the insurance markets created under the Affordable Care Act (ACA).
The program is being funded by three annual assessments on employer-sponsored health plans. The assessments are for average covered lives in 2014, 2015 and 2016 calendar years.
This year, enrollment data must be submitted by November 15, 2016, and payment must be submitted no later than January 17, 2017.
The 2016 Reinsurance Contribution Rate is $27.00 per covered life.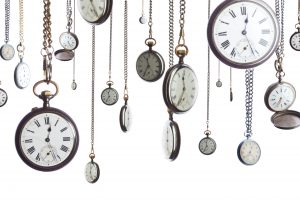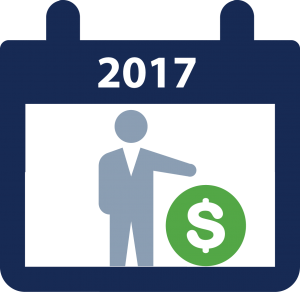 The Centers for Medicare and Medicaid Services (CMS) has implemented a streamlined process for the collection of reinsurance contributions. A contributing entity, or a Third Party Administrator (TPA) on its behalf, can complete all required steps for the reinsurance contributions process online (using the government portal, pay.gov), including registration, submission of annual enrollment count, and remittance of contributions.
A form is available for the contributing entity (or its TPA) to provide basic company and contact information and the annual enrollment count for the applicable year. The form will automatically calculate the contribution amounts, and entities will be required to submit payment information and schedule a payment date for remittance of the contributions.
CMS will not send an invoice to contributing entities. All required action will be completed online at pay.gov.
Options for Payment
There are two options for how a contributing entity can make a payment: (1) a one-time lump sum payment, or (2) a full contribution in two payments. (See chart below.)
Contribution Payment Options for the 2016 Benefit Year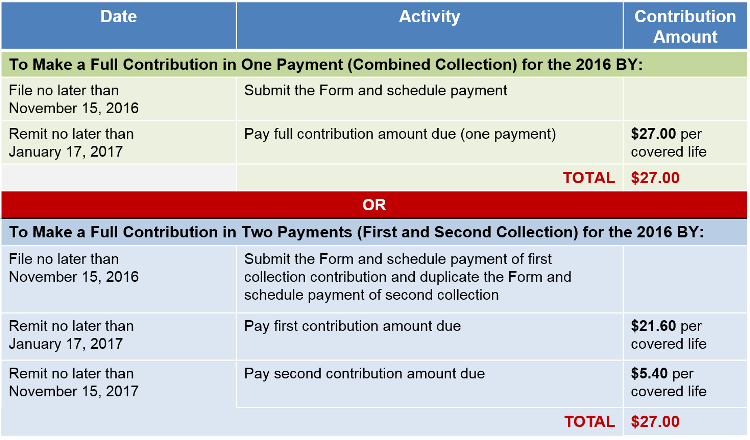 CMS will permit contributing entities to submit each year's contribution in two separate payments – one larger payment of $21.60 per covered life at the start of the year, and a smaller payment of $5.40 per covered life at the end of the year.
However, when submitting enrollment data, dates must immediately be scheduled for payment of the fees, whether there will be one payment prior to January 17, 2017, or two payments with the later in November 2017.
If You Are Self-funded for a Portion of the Reporting Period
For a plan that has moved from a fully insured plan to a self-funded plan during the first nine months of the 2016 calendar year, both plans will be responsible for paying a portion of the fee, using one of the permitted calculation methods.
Since fully-insured plans are not permitted to use the Snapshot Factor Method of calculation, either the Actual Count Method or the Snapshot Method of calculation must be used.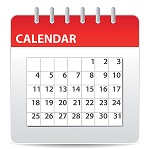 Helpful Resources
This site provides technical assistance and training related to the Marketplace and Premium Stabilization program (which includes the Transitional Reinsurance Program). Webinars are offered that provide entities with information on program and operational guidance, along with live demos of the enrollment count and contributions submission process.
This is the site where the contributing entity, or TPA, will create a profile, and submit the enrollment data and contributions for the Transitional Reinsurance Program.
This website is hosted by the Centers for Medicare and Medicaid to provide information about the Transitional Reinsurance Program.
For more information, consult your broker, legal advisor or cms.gov.
This blog post should not be considered as legal advice.