5 Factors in Employer Prescription Drug Costs
Why are employer prescription drug costs spiraling higher every year?
"There are a combination of factors," said Zafeira Sarrimanolis, PharmD, MedCost Pharmacist and Clinical Consultant. "This is a major problem for employers who do not want to make employees unhappy by instituting clinical pharmacy programs in their health plans."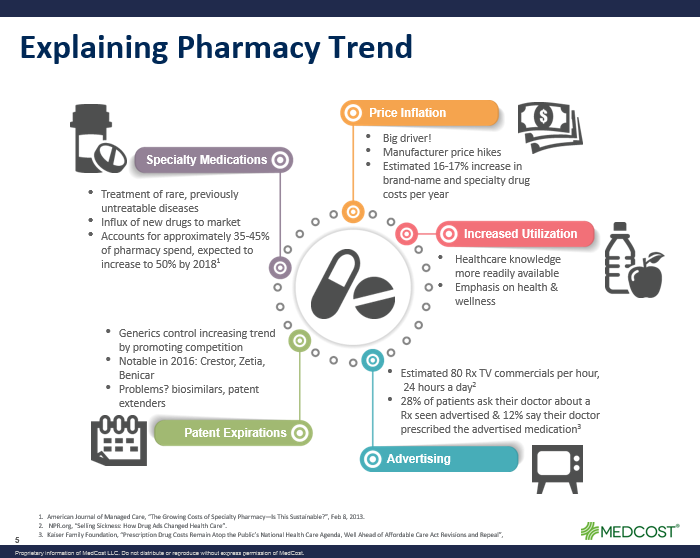 What Are the Factors in Employer Prescription Drug Costs?
1 Manufacturer Price Hikes.
Costs for drugs like EpiPen® and Humira® have been widely publicized.[i] Prices are escalating 16-17% per year. Manufacturers are also promoting new uses for existing high-cost drugs, even though there are already FDA-approved, lower-priced drugs for the same conditions already on the market.
2 Increased Use of Prescription Drugs.
The number of people taking cholesterol drugs is up from 6.5% (1999-2002) to 13.1% (2009-2012). Similar increases are seen in other common chronic conditions, including depression which increased 6.4% to 9.0% over the same period.[ii]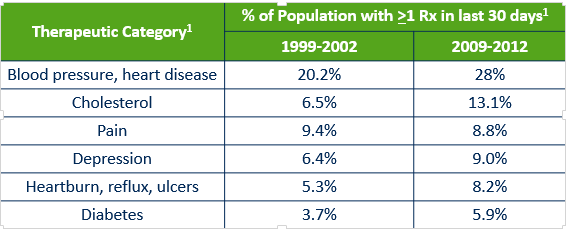 3 Specialty Drugs.
New, expensive medications for diseases such as cancer and multiple sclerosis are constantly hitting the market. Specialty drugs account for about 1% of total prescriptions but 35-45% of pharmacy spend, averaging $3,400 per drug per month.[iii]
4 Patent Expirations.
In 2016, Crestor, Zetia and Benicar all had patent expirations. The increased competition from generic equivalent drugs is decreasing costs across the board. Unfortunately for high-cost injectable medications like Humira, the introduction of generic versions is not as simple.
5 Advertising.
An estimated 80 drug commercials per hour are shown across TV outlets.employer prescription drug costs[iv] Radio, magazines, newspapers and social media also contain prescription drug ads that prompt individuals to ask doctors about specific drugs.
"It's an exciting time in the drug industry with the influx of new drugs coming on the market," said Michael Cornwell, MedCost Director of Sales and Underwriting. "But it also presents challenges for us in the industry since controlling these costs is not always user-friendly."
Employer Strategies for Controlling Prescription Drug Costs
Pharmacy Benefit Managers
Working with a Pharmacy Benefit Manager (PBM) supports cost management for employers in the pharmacy portion of their health plans. A PBM negotiates discounts and rebates from drug manufacturers, which are then returned back to the employer. PBMs also contract with pharmacies and process pharmacy claims.
The PBM controls pharmacy costs for employers through development of a preferred drug list (or formulary) and clinical programs. MedCost as a benefits administrator works closely with PBM partners to get the best rates for employers, customizing a pharmacy plan for each client's unique population.
Formulary Management
Preferred drug lists are arranged in tiers, or cost levels, of generic, preferred and non-preferred medications. A PBM Pharmacy & Therapeutics Committee of industry experts follows a clinically-driven formulary decision-making process to define the preferred drug list. Some drugs are excluded from coverage in favor of clinically-similar alternatives that treat the same disease.
Exclusions can save as much as 15% of prescription drug costs in an employer's health plan.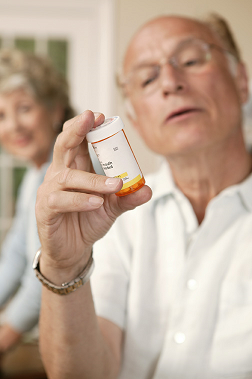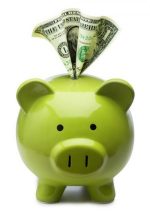 Prior Authorization
Prior authorizations require a doctor to provide additional clinical information to determine whether the health plan covers that drug. Employees, providers and health plan administrators dislike the inconvenience of waiting for approval of drugs. But this strategy is key to ensure that members take safe, clinically-appropriate and cost-effective drugs.
"There's a human factor," said Michael Cornwell. "We do not want to be disrupted in using familiar medicines. But employers cannot save money without these strategies."
Step Therapy
Step therapy requires initial use of a lower-cost, clinically-similar drug for a medical condition, before a higher-cost drug for the same condition is covered by a health plan.
Summary
"When 1% of prescriptions drive 40-45% of an employer's pharmacy spend, avoiding wise management is no longer optional", said Zafeira Sarrimanolis. "Part of my role as a MedCost Pharmacist is to emphasize the importance of cost-management strategies to our employers and consultants."
"I also work closely with our clients to help employers understand the importance of educating their employees about these changes and why they are needed."
"It's all about making sure each employee gets the right drug for the right medical condition at the right time. That's how we control pharmacy costs."
______________________________________________________________________________
[i] Brad Tuttle, "21 Incredibly Disturbing Facts about High Prescription Drug Prices," Money Magazine, June 22, 2016, http://time.com/money/4377304/high-prescription-drug-prices-facts/ (accessed April 26, 2017).
[ii] "Health, United States, 2015," National Center for Health Statistics, Centers for Disease Control and Prevention, https://www.cdc.gov/nchs/data/hus/hus15.pdf#079 (2009-2012), (accessed April 26, 2017).
[iii] "The Growing Cost of Specialty Pharmacy – Is It Sustainable?" American Journal of Managed Care, February 18, 2013, http://www.ajmc.com/payer-perspectives/0213/the-growing-cost-of-specialty-pharmacyis-it-sustainable (accessed April 26, 2017).
[iv] "Prescription Drug Costs Remain Atop the Public's National Health Care Agenda," Kaiser Family Foundation, October 28, 2015, http://kff.org/health-costs/press-release/prescription-drug-costs-remain-atop-the-publics-national-health-care-agenda-well-ahead-of-affordable-care-act-revisions-and-repeal/ (accessed April 26, 2017).