Is your company one of the growing numbers of US employers using
health care data
to manage expenses?
Just as employers keep a close watch on profit and loss columns, the same analysis is now available for companies' health care costs. Big data is increasingly driving improved, better coordinated care to improve employee health while managing spiraling expenses.
We know this is a complicated topic (just like health care). That's why we're offering a free white paperexamining the role of big data in health care and how employers can achieve true quality, cost-effective outcomes.
Between 1999 and 2015, employer-sponsored health premiums rose 203%.[i] Managing employee health costs is becoming more and more difficult every year.
Big data compiles massive amounts of data from multiple sources, yielding key metrics and predictive analytics for health care providers. Providers can then leverage this into interventions that provide high quality, cost-effective care. And employers who receive regular reports on trends can work with a benefits administrator to better manage those costs while supporting employee health outcomes.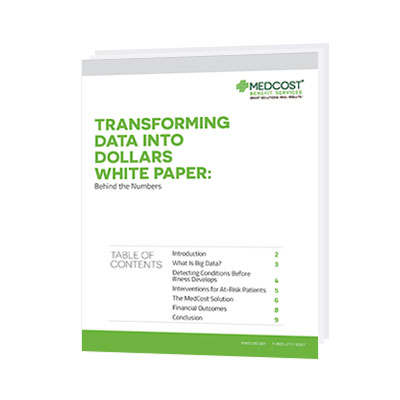 Transforming Data into Dollars
Download the white paper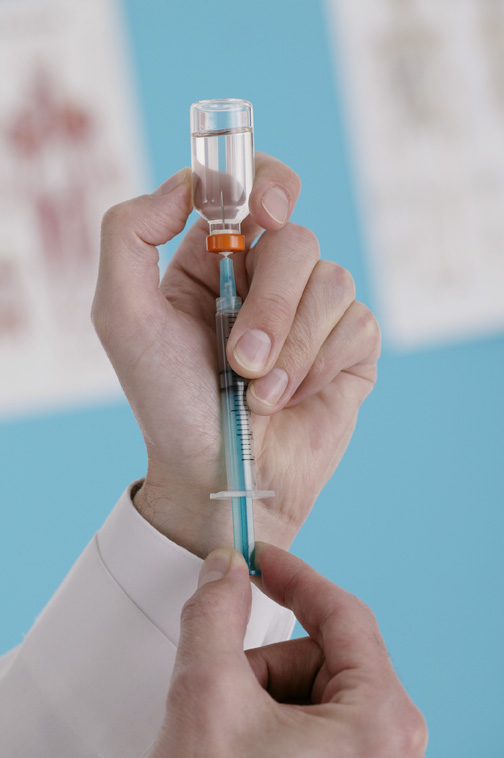 Jane's Story
Here's an example of how MedCost applies this analysis. Jane,* a 42-year old female member with moderately-controlled diabetes, has health benefits through her job. Jane's biannual visit to her Primary Care Physician (PCP) documents her routine lab work, prescriptions and referrals for preventive screenings.
Between PCP visits, this diabetic member gets the flu, causing severe increases in blood glucose levels. When Jane goes to the Emergency Room, the ER doctor increases her medication dosage. After she goes home, Jane's personal blood glucose meter shows an alarming drop in her blood sugar levels. Jane calls her PCP, who adjusts her dosage to prevent more complications. Jane's next checkup is planned in six months.
Was all the data communicated from the hospital's electronic records, the lab vendor's system, payer claims and her home monitoring glucose meter? Will the PCP be able to verify that Jane actually obtained her preventive mammogram or flu vaccine prescribed before the ER visit?
At MedCost, Jane's case would be carefully monitored by her nurse health coach. If there is an issue, her nurse health coach would follow up.
Chronic illnesses like Jane's need expert support to prevent worse outcomes and resulting higher costs. And advanced analytics can now identify patients and populations at risk for developing certain conditions prior to the actual onset of illness.
The white paper, Transforming Data into Dollars, offers an understanding of factors influencing the need for advanced analytics solutions, including an example using the MedCost Care Management programs.
Here are other insights from the white paper:
| | |
| --- | --- |
| BENEFITS OF ADVANCED ANALYTICS | |
| | |
| 1. Accurate Reporting | Normalized measures based on industry-accepted tools of evaluation yield best results for your employees. |
| 2. Maximized Outcomes | Your company will rate higher on the Analytics Sophistication Scale and outperform industry peers. |
| 3. Healthier Employees | Potential risk for developing conditions can be identified and prevented. |
| 4. Lower Costs | Wise management of expenses creates a sustainable long-term cost trend. |
We've identified high-risk employees, improved health results and minimized costly hospital visits using precise data analysis in a sample case study that illustrates these key benefits. Download our white paper to learn how.
*Actual patient data not used.
---
[i] "Recent Trends in Employer-Sponsored Health Insurance Premiums," Kaiser Family Foundation, January 5, 2016, http://kff.org/infographic/visualizing-health-policy-recent-trends-in-employer-sponsored-health-insurance-premiums/ (accessed June 16, 2016).